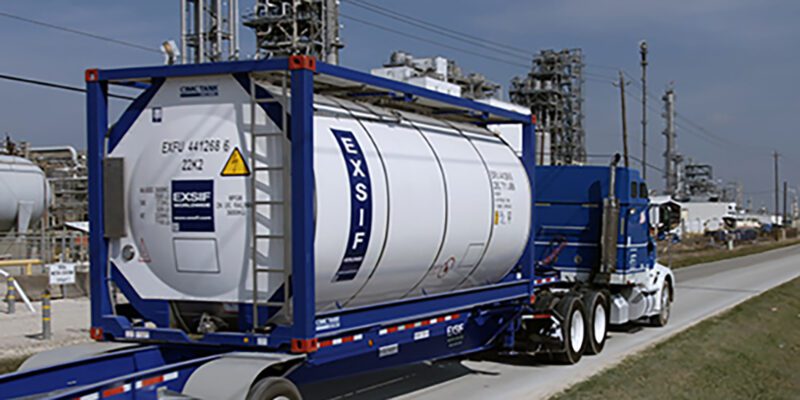 Tank Container Chassis
Industry proven, lightweight drop frame ISO tank container chassis have a lower center of gravity to improve stability and provide safer, more reliable transport.
Tank Container Chassis
Tank container chassis form an integral part of the multimodal tank operation. EXSIF offers a range of chassis designs in the US to meet specific customer needs.
The core fleet comprises chassis specifically designed for transporting standard 20′ ISO tank containers. These industry-proven, lightweight, drop frame chassis have been specifically developed to lower the center of gravity of your loaded tank containers.
Explore several configurations:
Tandem axle
Spread axle
Combo
Tri axle
Additional features available include air ride suspension and lift kits for unloading assistance.
Technical Specifications for Leasing Chassis for Tank Containers
Available in 43' Drop frame, 43' Hi-Lo and 40' flat deck designs
Light weight and low-profile construction
Air Ride suspension kits
Lift kits
Tire inflation systems
Roll stability
Load scales
Disc Brakes
GPS tracking and telemetry
Streamline Operations and and Reduce CAPEX with Flexible Term Chassis Leasing Contracts.
With a strategic supply chain network that covers the globe, we have the connections to get you what you need — when you need it.
Why EXSIF
Lease Tank Containers with us for Comprehensive Support
When you lease tank containers with us, the tank is on the tip of the iceberg.
See Our Varieties of Tank Containers
Our tanks safely carry your products from point A to B!
Find the tank container leasing services you need.
Lease your standard and specialty tanks from us and gain unparalleled partnership at the same time.